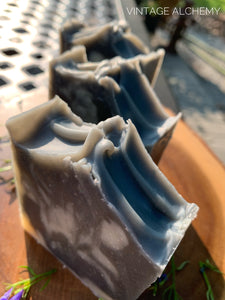 Petrichor handmade soap has a subtle hint of fragrance reminiscent of walking in the crisp air after a thunderstorm.

It strikes the perfect balance, delivering a refreshing touch without overwhelming your senses.

As the fragrance settles, a subtle earthy undertone emerges, adding depth to the experience.
Notes

This artful fusion of natural ingredients, including Activated Charcoal, is carefully crafted to draw out impurities and toxins from the skin, restoring a sense of splendor and softness for a revitalized, healthy, and balanced complexion.
Elements
Base: Shea Butter
Hues: Activated Charcoal
Weight
4.5oz
Ingredients
Saponified Oils of Olive, Coconut, and Castor, Shea Butter, Vitamin E, Activated Charcoal, Fragrance