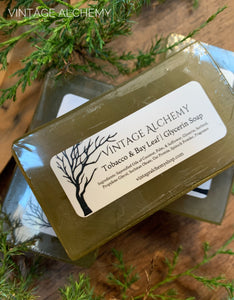 Tobacco and Bay Leaf has a slightly masculine vibe with invigorating notes of bay leaf and fir needle that transport you to a lush, fragrant forest, where the crisp, clean air is filled with the scent of freshly fallen leaves and towering evergreen trees. It's as if you've embarked on a tranquil woodland hike, surrounded by the beauty of nature.
The woody, grounding notes of cedarwood bring a sense of warmth and stability, as if you've nestled into a cozy cabin in the heart of the forest. The bergamot adds a citrusy burst, like the sun breaking through the forest canopy, infusing the air with a touch of brightness and energy.
Green tobacco, with its deep and comforting aroma, adds a touch of smoky sweetness to the composition, evoking memories of sitting by a crackling campfire and enjoying the simple pleasures of life in the wilderness. 
Elements
Hues: Spinach Powder


Essential Oils: Bergamot, Bay Leaf Laurel, Musk Oil, Cedarwood, Fir Needle
Weight

4.2oz
Ingredients
Saponified Oils of Coconut, Palm, & Safflower, Glycerin, Sorbitol, Propylene Glycol, Sorbitan Oleate, Oat Protein, Spinach Powder, Fragrance