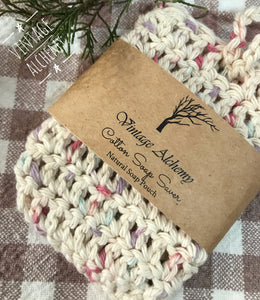 JUST ONE LEFT!

My locally made 100% Cotton Soap Saver Bags an ideal way to store your Vintage Alchemy Soaps. Plus, they're a great alternative to plastic shower sponges.
Directions
Simply place your soap in the pouch and use for a wonderful, lathering experience. Just hang in the shower when you're done. This allows your soap to dry out between uses, extending its life.
When the soap gets low, simply pop in another one of our wonderful bars, and they will meld together. You'll never waste another ounce of soap again!
Care Instructions

It's recommended to wash your bag every 4 weeks. You can toss them in your washing machine on cold and line dry!