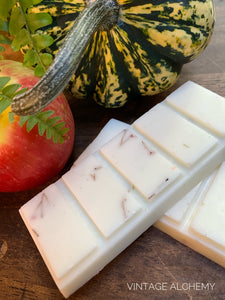 My Autumn Wreath Botanical Wax Melt Snap Bars have a spicy, warm fragrance that will remind you of a crisp Autumn day surrounded by fallen leaves and cinnamon apples with kisses of Cardamom, Orange and Clove. It has Baby's Breath flower botanicals and the essential oils of Cinnamon, Patchouli, Cedarwood, Vetiver, Cardamom, Clove, Orange, and Sandalwood.

Plastic Free | Vegan | Phthalate Free | Zero Waste | Paraffin Free 
Notes
Botanical Wax Melt Snap Bars are handcrafted from natural soy wax sourced only from USA farmers. Additionally, I don't add any artificial color additives, only beautiful, natural botanicals. My soy wax melts are made with fragrance oil blends that contain high quality essential oils and are free from carcinogens, reproductive toxins, and other potentially hazardous chemicals. 
Packaging
Packaged in a clear, plastic free sleeve made using vegetable starch that's biodegradable and conforms to the EN 13432 standard.
Each order contains 1 Botanical Soy Wax Melt Snap Bar (1.8oz)