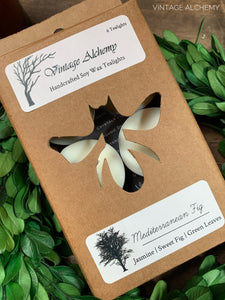 Mediterranean Fig has lush floral and verdant tones that take bloom as your tealights burn. Its core is a delicate union of fig and jasmine, accompanied by a cozy moss-and-wood base and a whisper of delicate musk to perfectly round it out.
Essential Oils: Grapefruit, Lemon, Sweet Orange, Patchouli
Notes
My 6-pack soy tealights come in a rustic, biodegradable, kraft box for easy gift giving.